It's the beginning of a New Year and a new chapter in our lives. We are looking for people to help promote our Launcher Dock software and if there's anyone out there to donate some of your time to write articles, blog posts or even create Videos then please let me know.
Download the latest version below, it's totally FREE. Click the download button below: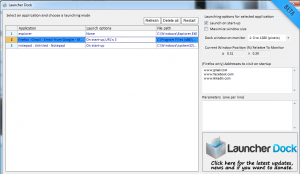 SUPPORT US BY DONATING

We hope you like and enjoy this program. Feel free to share it with friends and colleagues. We want everyone to download and like this Launcher Dock program and don't forget to support us.