Our Launcher Dock software has now been downloaded 6000 times from our website and we are excited as the number reaches 10000. Over the past year we had a few companies asking us to monatise the free program and we've declined. We hope not to ever have to monatise the application.

Now this month we also had a nice ranking on Softonic. We were ranked #2 (on the 14th Jan 2015) for the Windows Program Launch Toolbars category and hopefully one day we will reach #1. With your help I'm sure we can reach this goal.
Till then have a great day and if you have downloaded the application let us know how you've used it.

Download the latest version below, it's totally FREE. Click the download button below: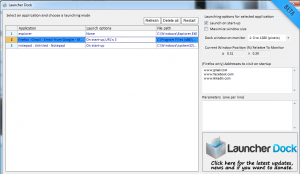 SUPPORT US BY DONATING

We hope you like and enjoy this program. Feel free to share it with friends and colleagues. We want everyone to download and like this Launcher Dock program and don't forget to support us.