Thanks to Mihaela Citea from Softpedia who gave us a rating of 4/5 stars and a great review. Here's the review from the Softpedia website:
Launcher Dock aims to give you a helping hand in managing the way your applications are displayed at system startup, thus saving you the time and effort needed for manually arranging them on the screen.

It is mainly intended to help users who work with more than one screen, as well as those who have multiple applicationslaunching along with Windows.

Launcher Dock enables you to assign customized launching options for every application you want to run right after the computer is turned on. It is capable of opening an email client, a browser and a word processor or any other program at the same time and at user-defined positions on one or more connected screens.

Its main window is neatly organized, enabling you to view a list of all the programs, along with their launching options and their location on the hard drive (which is automatically detected). In order to add a new application to the list, simply run it and press the 'Refresh' button for Launcher Dock to detect it.

The final layout configuration is created by manually arranging the desired program windows onto the screen while Launcher Dock is running. Their position relative to the monitor dimensions is automatically calculated, no input is necessary.

You can select the monitor on which a certain application is opened and optionally maximize the window size. Users can define additional parameters to add to the launching options. Furthermore, Firefox users can define a list of favorite webpages to visit at startup, but this option is already present by default in the browser, using the built-in session manager.

Launcher Dock impresses through its practical use, enabling you to save time when starting the PC and simplifying the way you manage multiple opened windows on a cluttered screen. It can open any number of applications, automatically placing them exactly where you want them to be.
Download the latest version below, it's totally FREE. Click the download button below: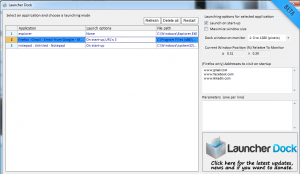 SUPPORT US BY DONATING

We hope you like and enjoy this program. Feel free to share it with friends and colleagues. We want everyone to download and like this Launcher Dock program and don't forget to support us.