It's almost Christmas and New Year and since the launch of Launcher Dock for Windows, the software has almost reached 1000 downloads. We want to thank all those people who downloaded the software and we hope you are putting it to good use.
Download it now!
[wpdm_file id=2]
If you have any feedback or reporting any issues then please post it in the forum and we'll try to resolve the issue in a timely manner.
Download the latest version below, it's totally FREE. Click the download button below: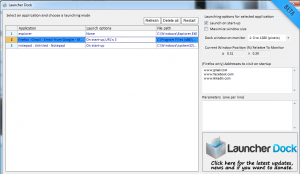 SUPPORT US BY DONATING

We hope you like and enjoy this program. Feel free to share it with friends and colleagues. We want everyone to download and like this Launcher Dock program and don't forget to support us.