How can I open multiple websites when have Firefox started in my Launcher Dock?
On the right hand side of the program you will see a section called (Firefox only) Addresses to visit on startup. You can enter multiple websites addresses in this list. This will open up a new tab for each website address. You just need to make sure you have the Firefox program select on the list and have the "Launch on start-up" selected.
Download the latest version below, it's totally FREE. Click the download button below: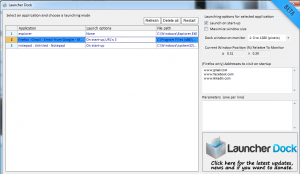 SUPPORT US BY DONATING

We hope you like and enjoy this program. Feel free to share it with friends and colleagues. We want everyone to download and like this Launcher Dock program and don't forget to support us.