Are you looking for a Windows application to start you program automatically when you log on? We have the answer and it's called Launcher Dock. We built this piece of software specifically for those that wanted to save time when turning on their computer. Walk away to make coffee and when you come back to your computer all your software is loaded automatically just the way you want it.
With Launcher Dock you can even dock your program on certain areas of the screen so that they are all visible as soon as you log in.
Watch the video and download the software here. It's free.
Launcher Dock Intro

Download the latest version below, it's totally FREE. Click the download button below: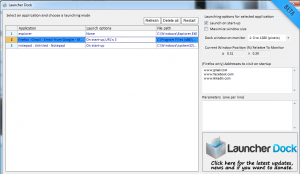 SUPPORT US BY DONATING

We hope you like and enjoy this program. Feel free to share it with friends and colleagues. We want everyone to download and like this Launcher Dock program and don't forget to support us.